Day 1: delhi- Rishikesh (244 km/ 6 to 7 hrs ) Upon arrival in Delhi meeting….
Tour Package Details :
Including
Brekfast
Dinner
twin sharing Double Bed Room
Vehical as per required
Helicopter Ticket
Toll Tax parking
Uttarakhand tax
Per person price – 28000/-
Namita Travels
upon arrival in Delhi meeting and assistance drive to Rishikesh by road, on arrival at Rishikesh check-in to hotel, evening free for relax & briefing. Dinner & overnight stay at hotel. 
24 Kms. from Haridwar, located in the laps of lower Himalayas, and is surrounded by scenic beauty of the hills on three sides with Holy Ganga flowing through it. The whole place is considered to be sacred as it is believed that meditation at this place leads to attainment of salvation. There are many temples-some ancient, some new along the river Ganges. Rishikesh is important not only as pilgrimage center closely associated with the Ramayana, but also as home for many important centers of Hindu
religious thought and spirituality, and as a very great Yoga Centre. There are many ashrams and Yoga institutes here. Rishikesh is also the gateway and the start-off point for journeys to important religious places like Badrinath, Kedarnath, Gangotri and Yamunotri. 
Day 02: RISHIKESH- BARKOT (185 Km / 7 to 8 hrs)
This morning depart for Barkot, located on the foot of Yamunotri. Drive via Mussoorie and visit Kempt Falls on the way (If time permits). On arrival at Barkot, check-in to your hotel/camp. Rest of the day is free to relax and store your energy for the Pahad (hill) Yatra of Yamunotri the next day. Dinner and Overnight stay at Barkot.
Lunch at – On direct payment basis
Barkot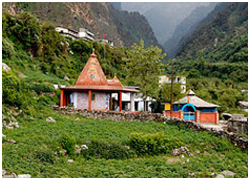 Barkot is a town and a nagar palika in Uttarkashi District in the state of Uttarakhand, India. It is located on the banks of the Yamuna river. Barkot is located 48 km from Yamunotri. NH-123 and NH-94 are major highways connecting in Barkot.
Note – During day 2 in Rishikesh / Haridwar it will take 3 to 4 hrs to get hill permit / certificate and Clarence of transport for Chardham Yatra.
Day 03: BARKOT/ KHRSHALI- YAMUNOTRI- BARKOT (36 Km / 2 hrs & Start trek 05 KM Each Side)
After breakfast, depart for Hanumanchatti (40 Km), Janki Chatti (8 km). Here you will begin the First Pahad Yatra of Yamunotri (5 Km trek). You can hire a Doli or a horse, for your trek (Cost Not Included). The trek passes through lush green valley, a profusion of conifers, rhododendrons, cacti and several species of Himalayan shrubs. Yamunotri (altitude 3,291 m), the western most shrine of the Char Dhams, is dominated by Banderpunch (6,361 m). Yamunotri is the source of the river Yamuna, the twin sister of Varna, the Lord of Death. Yamuna is also the daughter of Surya the Sun. The actual source of the river originates from Champasar Glacier 1 km a head of the shrine, at an altitude of 4,321 mts. On arrival by afternoon in Yamunotri take holy dip in Yamuna River and perform Pooja, and take the same route back to Barkot, check in at Hotel / Camp. Dinner and Overnight stay at hotel in Barkot.
Lunch at – On direct payment basis
Yamunotri
Yamunotri Temple is situated in the western region of Garhwal Himalayas at an altitude of 3,291 metres in Uttarkashi district, Uttarakhand. The temple is dedicated to Goddess Yamuna and has a black marble idol of the goddess.
Day 04: BARKOT – DHARALI (HARSIL) (165 Km/ 07-08 hrs Journey)
After breakfast drive 165 kms to Reach Harshil, & evening free for Relax. Dinner & overnight stay at Harshil.
Lunch at – On direct payment basis
Harsil – Unexplored Valley
Harsil is an unspoiled and hidden jewel of Uttrakhand state offering ample scope for people seeking peace and serenity in the lap of Himalayas. It is situated on the bank of Bhagirathi River (Ganga River) at an elevation of 2620 mts above sea level enthusiasts and nature lovers.
Dense deodar forest, gushing water of Bhagirathi, chirping of birds, salubrious environment and serene environs are the highlights of this little secluded destination.
Day 05: DHARALI (HARSIL) – GANGOTRI – UTTARKASHI (155 Km / 06-07 Hrs.)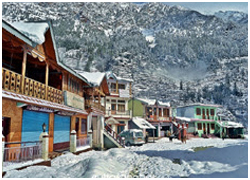 Early morning breakfast at hotel and drive to Gangotri. Nestled in the magnificent Garhwal Himalayas, Gangotri is set at an altitude of 3048 mts. Upon arrival at Gangotri take a holy dip in the sacred river Ganges which is also called Bhagirathi at its origin Visit the Gangotri Temple. The 18th century's temple dedicated to Goddess Ganga is located near a sacred stone where King Bhagirathi worshipped Lord Shiva. Ganga is believed to have touched earth at this spot. The temple is an exquisite 20 ft. high structure made of white granite. After performing Pooja Late afternoon drive back to Uttarkashi. Dinner & Overnight stay at Uttarkashi.
Lunch at – On direct payment basis
Uttarkashi & Vishwanath Temple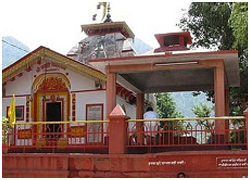 Situated on the banks of River Bhagirathi is Uttarkashi, an important pilgrim centre which is often equated with Kashi (Varanasi). It is situated at an elevation of 1150 meters. During Megh Mela, people visit Uttarkashi to take a holy dip in Bhagirathi along with their village deity. Dedicated to Lord Shiva, Kashi Vishwanath Temple is an ancient and the most famous temple in Uttarkashi. It is said to have initially been built by Sage Parshuram and which was later renovated by Maharani Khaneti, wife of Sudarshan Shah in 1857. The Shivling is 60 cms in height and 90 cms in circumference. This is the most important shrine of Uttarkashi and should not be missed if you are traveling to this part of the country.
Day 06: UTTARKASHI – GUPTKASHI/SITAPUR (190 Km / 8 to 9 hrs)
After early morning breakfast check out from the hotel and drive for Guptkashi/Rampur/Sitapur. On arrival check in at hotel. Rest of the day free to explore the Guptkashi town. Dinner and Overnight stay in Guptkashi/Rampur/Sitapur hotel/Camps.
Lunch at – On direct payment basis
Guptkashi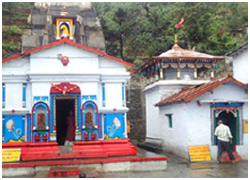 Guptakashi, Gupta Kashi or Guptkashi is a fairly large town located at an elevation of 1,319 metres (4,327 ft) in the Kedarkhanda ('khanda' means "sector"), in Garhwal Himalayas of Rudraparyag district in Uttrakhand, India. It is known for its ancient Vishwanath Temple dedicated to the god Shiva, which is similar to the one in Varanasi (Kashi). The other wellknown temple here is dedicated to Ardhanareshvara, a half man half woman form of Shiva and Parvati. The name Guptakashi has legendary significance linked to the Pandavas, the heroes of the Hindu epic Mahabharata .Its religious importance is considered next to that of Varanasi, believed to be the most pious of all Hindu pilgrimage places.
The temple town is located on the way to the Kedarnath, one of the Chota Char Dhams and Panch Kedar. It has the scenic backdrop of the snow-covered peaks of Chaukhamba and enjoys a salubrious weather throughout the year.
Day 07: GUPTKASHI/SITAPUR – BY HELICOPTER(SRIHEDARNATHJI DARSHAN)
Early morning after breakfast check out from the hotel and drive to helipad
Lunch at – on direct payment basis
Kedarnath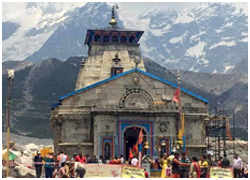 Kedarnath Mandir is a Hindu temple dedicated to Lord Shiva. It is on the Garhwal Himalayan range near the Mandakini river in Kedarnath, Uttarakhand in India.
After darshan check in hotel at Guptkashi/Sitapur/Rampur
KEDARNATH – SONPARYAG – GUPTKASHI / SITAPUR (20 Km trek down/18 Kms OR 30 Kms Drives / 05-10Kms hotel drive)
Early morning y
Day 08SITAPUR/GUPTKASHI – JOSHIMATH – BADRINATH (240 Km OR 190 Kms / 8to 9 hrs)
This morning, you check out of the hotel and drive to Badrinath via Joshimath. After driving through some wonderful Ghat road you arrive at Badrinath. On arrival check into the hotel. After some rest and refreshments you are all set to go to Badrinath Temple for darshan in the evening. But first you have to go to Tapt Kund (Hot Spring), take bath and then go to the temple. Dedicated to Lord Vishnu, the temple of Shri Badrinath Ji is 15 meters in height, built in the form of a cone with a small cupola of a gilt bull and spire. Later back to hotel. Dinner and Overnight stay at hotel.
Lunch at – on direct payment basis
Badrinath
Badrinath or Badrinarayan Temple is a Hindu temple dedicated to Vishnu which is situated in the town of Badrinath in Uttarakhand, India. The temple and town form one of the four Char Dham and Chota Char Dham pilgrimage sites.
Day 09: BADRINATH – JOSHIMATH-RUDRAPARYAG-SRINAGAR (185 Km / 7 to 8 hrs)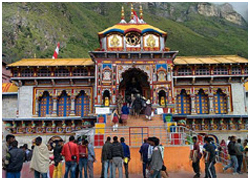 This morning, go for Badrinath darshan. After darshan return back to hotel, breakfast at hotel and proceed for Badrinath local sightseeing visit Mana Village, Vyas Gufa, Ganesh Gufa, and Mata Murti temple. Afternoon driver back to Srinagar via Karanprayag & Rudraprayag. Rudraprayag is a small pilgrim town on the holy confluence of river Alaknanda and Mandakini. On arrival check in at hotel. Dinner and Overnight stay at hotel.
Lunch at – on direct payment basis
Mana Village: Mana is a village in the district of Chamoli in the Indian state of Uttarakhand, located at an altitude of 3,200 meters. Mana is the last Indian village situated at Indo-China Border.
Vyas Gufa: At a distance of 5.5 Km from Badrinath Bus Stand, Vyas Gufa is an ancient cave located on the banks of Saraswati River at Man Village in the Chamoli District of Uttarakhand. Vyas Gufa is believed to be the place where sage Vyas composed the Mahabharata epic with the help of Lord Ganesha.A distinct feature of the temple is the roof which resembles the pages from the collection of his holy scripts.
Day 10: SRINAGAR-DEVPARAYAG – HARIDWAR (145 Km / 5 to 6 hrs)
After breakfast drive to Haridwar en-route visit Devprayag, (The Confluence of River Alaknanada & Bhagirathi) to become Ganga. Reach Haridwar in the afternoon, check in to hotel, after Breakfast visit Mansa Devi, Chandi Devi Temples & Evening attend Famous Ganga Arti at Har ki Pauri. Overnight stay at Hotel.
Lunch at – on direct payment basis
HARIDWAR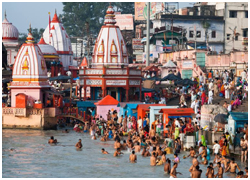 Haridwar, lying at the feet of Shiva's hills, i.e. Shivaliks, in the Haridwar district of Uttarakhand. Suryavanshi prince Bhagirathi performed penance here to salvage the souls of his ancestors who had perished due to the curse of sage Kapil. The penance was answered and the river Ganga trickled forth forms Lord Shiva's locks and its bountiful water revived the sixty thousand sons of king Sagar. In the traditional of Bhagirathi, devout Hindus stand in the sacred waters here, praying for salvation of their departed elder. It is doorway to the sources of the Ganga and the Yamuna, 3000 to 4500 meters up into the snowy ranges of the central Himalayas. The 'Aarti' worship of the Ganga after sunset and the floating 'dia' (lamp) is a moving ritual.
Day 11: HARIDWAR – DELHI (220 Km / 6 to 7 hrs)
Morning breakfast at hotel, and you are on your last lap of this Chardham Yatra journey. Drive back to Delhi. On reaching Delhi transfer to Railway Station / Airport.
religious thought and spirituality, and as a very great Yoga Centre. There are many ashrams and Yoga institutes here. Rishikesh is also the gateway and the start-off point for journeys to important religious places like Badrinath, Kedarnath, Gangotri and Yamunotri.